There is an incredible energy in Silicon Beach right now, a real feeling that the world is changing here. Located in close proximity to the gorgeous beaches of the Pacific Ocean that define the quintessential SoCal lifestyle, West Los Angeles is now the epicenter of the growing tech community.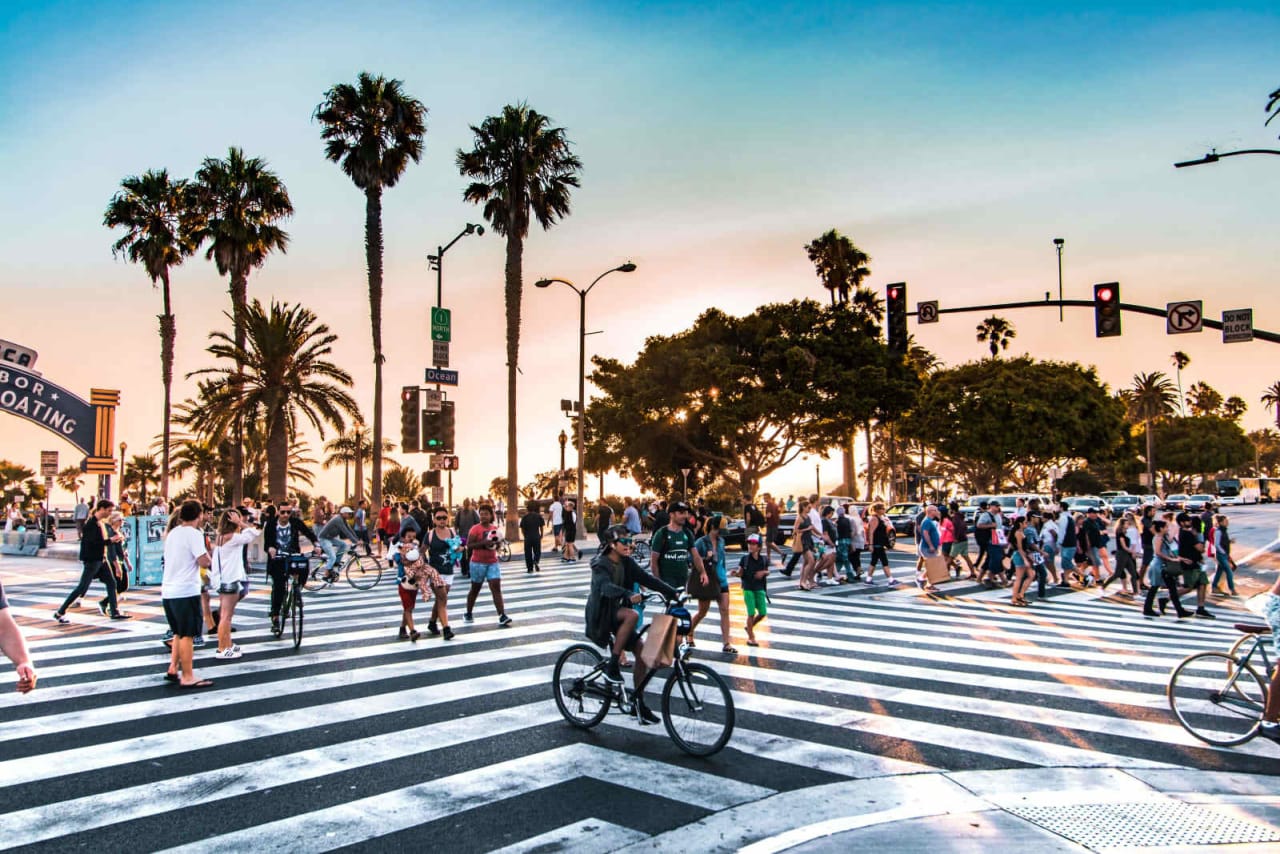 ​​​​​​​HISTORY
In 1971, Don Hoefler, a journalist for the weekly trade newspaper Electronic News, used the term "Silicon Valley" for the first time in print. The word "silicon" originally referred to the innovators in the southern part of the San Francisco Bay Area specialising in "silicon-based MOS transistors and integrated circuit chips." Pretty soon those chips would be used for many applications including cameras, computers, home entertainment, and a little thing called the Internet.

With rapid growth in Northern California, it was inevitable that the spirit and innovation of Silicon Valley would migrate to SoCal. In 2012, deemed Los Angeles and Orange County as the second- or third-hottest tech hub in the world.

Where is Silicon Beach exactly? There isn't a clear defined border but we have found that most startups are headquartered in Santa Monica, Venice, Marina del Rey, Playa Vista, Playa del Rey, El Segundo, Manhattan Beach and Hermosa Beach.

With more than 500 companies calling the area home, Silicon Beach is at the heart of the LA tech and startup scene. In fact, Google announced another LA campus on the way, the third it's built in eight years, to open in 2022 as part of the Westside Pavilion redevelopment project which will transform an existing shopping mall into new creative office spaces ().

The area is home to both native angelenos and a steady stream of talent from the Bay Area, Seattle, Texas, New York City and around the world (). Compared to Silicon Valley, Silicon Beach fosters more diversity in the types of industries it attracts which include tourism, fashion, health and wellness, and adtech.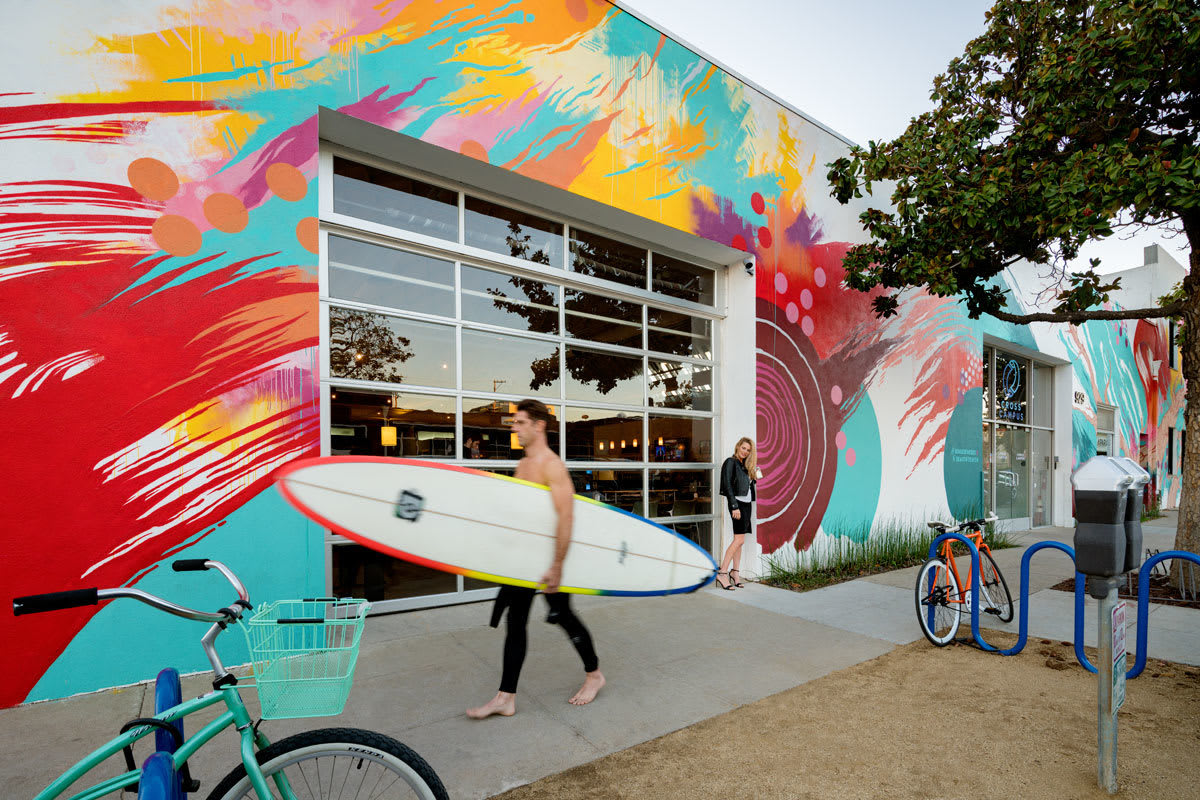 Cross Campus in Santa Monica
LIFESTYLE
With the average temperature in the area not dropping below 50ºF during the winter months, you can imagine why so many people are attracted to SoCal life! From surfing to hiking to walks on the beach, Los Angeles offers year-round outdoor activities. And even though you'll often hear people complain about traffic in the city, we've noticed an influx of folks walking, biking, and yes, event scooting to work and around town. How is that even possible? With the growth of coworking spaces such as Cross-Campus in Santa Monica and El Camp in El Segundo, people are finding places to work closer to home and looking for homes closer to where they work. Real close. Co-working spaces offer everything from ping pong to IT support to their members and we're more likely to see more pop up.
RESTAURANTS & BARS IN SILICON BEACH
There are countless areas to dine and drink around town. This is just a taste of what the area has to offer...

​​​​​​​The Rose Venice is an iconic restaurant in the heart of Venice, serving locals and travelers alike since 1979. Their menu offers seasonal, globally influenced cuisine in a sprawling space, that includes indoor and outdoor dining with a beer garden, a full market and bakery, Verve Coffee bar, and 40-foot cocktail bar. Fia in Santa Monica combines California produce with European technique to create a globally inspired, seasonal menu.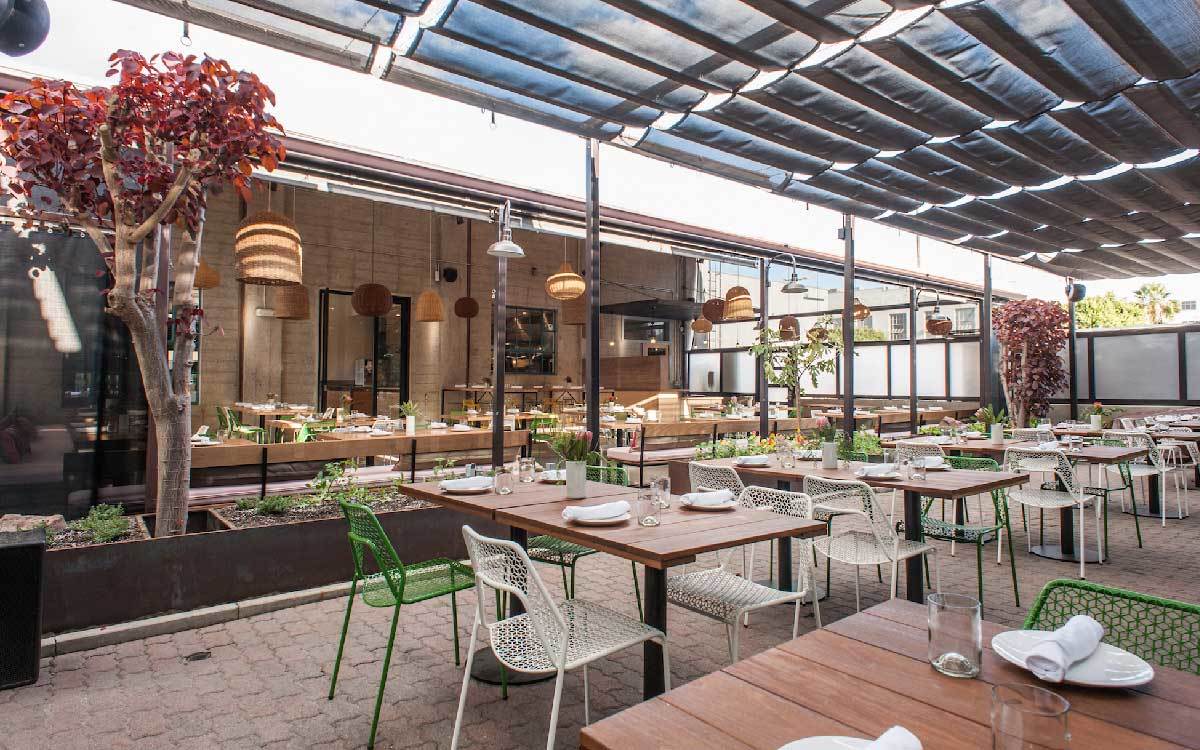 If you're relocating from New York City, and missing the 2nd Ave Deli or Katz's Deli, head to in Santa Monica for real Jewish soul food. Probably the best place to get the pastrami on rye or bagel with smoked fish, if that's what you're craving.

Take a trip to in Ladera Heights serving up a classic diner menu and a bit of nostalgia. It's also a good way to get familiar with Googie, SoCal's signature architectural style. You might recognize the interior from the movie Pulp Fiction which was filmed there.

For a bar that feels more like a home, head to which evokes a breezy, beachside Baja lifestyle and often hosts networking events for the tech industry. at the is the closest brewery to get handcrafted pizza and beer or if you're craving exotic sausage and German and Beligian beer, look no further than .

The soup of the day in Silicon Beach is always coffee! Try it Venice style with the surfers at or for an alternative, try a Cha Cha Nitro at on Abbot Kinney Blvd. When in doubt, donuts from are always the best choice for dessert or head to the tiny, secret hidden shop of for some consciously crafted magical chocolates.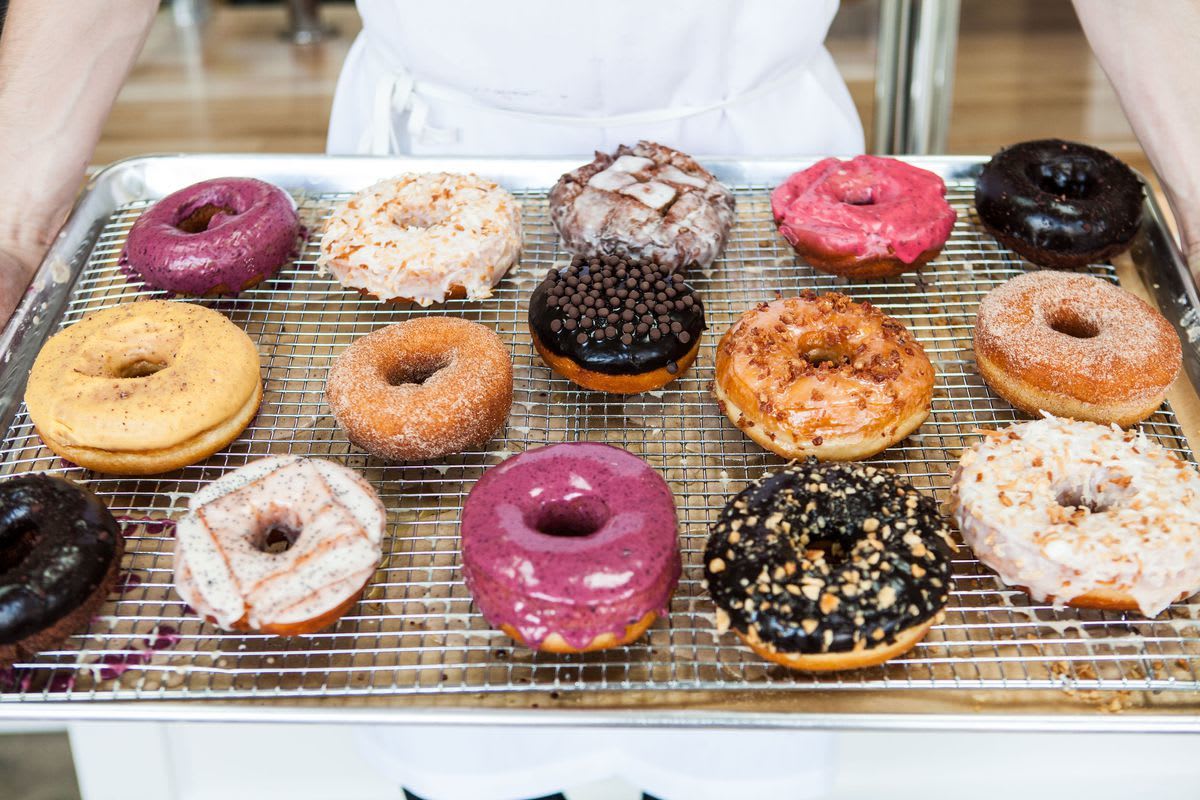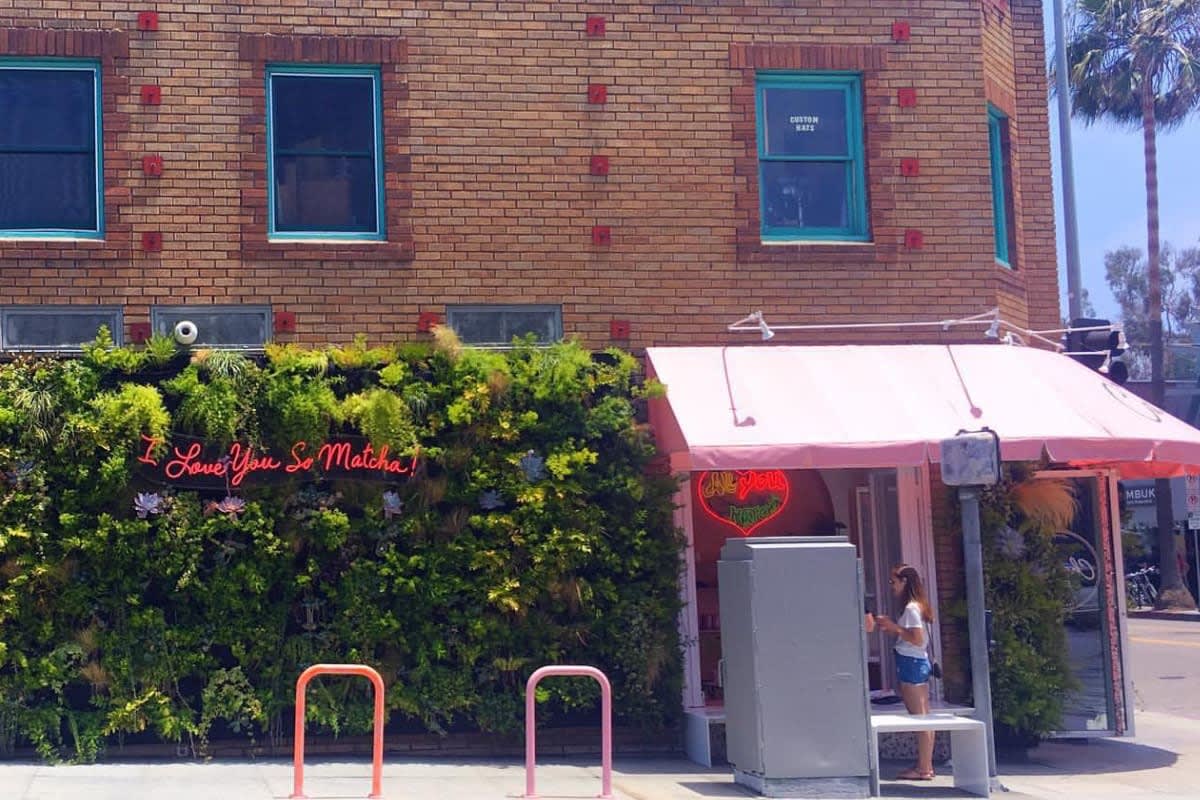 SHOPPING SILICON BEACH

There are certainly no shortage of places to shop. Most folks head to Abbot Kinney Blvd or nearby mall which will get you geared up for the beach and the office. The Third Street Promenade in Santa Monica also offers lots of popular stores and nearby will give you a place to sit in a cool, dark place after all the shopping and a day in the sunshine. If food is what your shopping for, explore Downtown , one of the country's finest farmers markets. If it's in season, you'll find it there.

THINGS TO DO IN AND NEAR SILICON BEACH

Ready to soak up some art? is an internationally renowned creative arts complex with 20 galleries and creative businesses and the nearby in Malibu will give you a chance to visit Ancient Greece and Rome without a plane ticket. For art with some street cred, Pico Blvd in Santa Monica has some beautiful murals mostly painted by local artists. Lots of great selfie moments too!

If the beach is calling you, try some yoga on a surfboard at in Marina Del Rey or surf lessons from . Just looking to enjoy the ocean with your feet up? Charter a boat .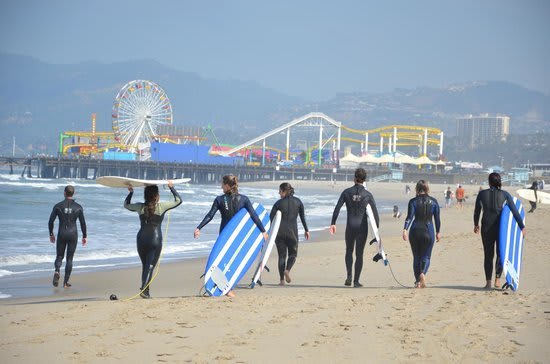 Los Angeles offers fantastic hiking, but in Malibu is not to be missed. This 6-mile loop trail will bring you to the tallest peak in the Santa Monica Mountains offering both a workout and incredible views.
FINDING A HOME IN SILICON BEACH
Considering a move to Silicon Beach and the neighboring area? At the Stephanie Younger Group, we believe your time should be spent enjoying the perfect home, not searching for it. Whether you're looking for your forever home or an investment property, contact us to learn how our results-driven approach has helped our clients meet their goals, regardless of how complex.


Real estate, like life, is all about getting the details right. - Stephanie Younger